Applying the abstraction
The garment example involves the transfer of physical goods. But, this same structure can be used to bring people together people for the purpose of exchanging information or finding collaborative partners.
Imagine now, all the millions of people on the Internet. Imagine them each needing a special piece of information that somewhere some of the other millions of people on the Internet might have. Wouldn't such a structure be useful for bringing together those who need to have a particular piece of information with those who might have it?
Such a structured space could also be used to bring people who want to create e-businesses together with people who can help them. It can be used to bring people with software products together with those who have a need for those products. It can bring service providers together with those who have a need for those services. It can bring experts and specialist together with the people who need their specialist help. It can bring together people with money with those who need it.
Returning to Tillman Pearce's initial problem of creating a database for cancer treatment. Wouldn't this be a useful infrastructure to facilitate the flow of information in this particular subject area? Patients with similar types of cancer could meet to share experiences, exchange knowledge about treatment strategies, costs and locations of specialist treatment centres. As this could be made available to anyone in the world, it could bring in opinions and knowledge of practices and treatment facilities from every corner of the planet.
Meeting places can be established based upon any number of criteria, so that patients can go to special areas to discuss a particular treatment option, a promising line of research, methods of coping with pain, drug testing programs, etceteras. All it would take to set up a any new meeting area would be to add a new category to one of the lists.
What happens at the meeting places – the vital paradigm shift
Every route through a tree like structure in a people space will end at a meeting place where people can establish a bot presence and have an opportunity to communicate and interact with the others who are there.
Having to use a single format for all the meeting places, it will be necessary for the design to include a wide range of options for people to be able to communicate with each other in a variety of different ways.
At a minimum, the meeting place would have to provide the following facilities:
1) A list of the people who have currently established a presence

2) An e-mail discussion forum

3) A message bulletin board

4) A news group

5) Facilities for instant messaging (peer to peer or chat rooms)

6) List of associated meeting places

7) List of relevant Web sites
This arrangement is illustrated in figure 13.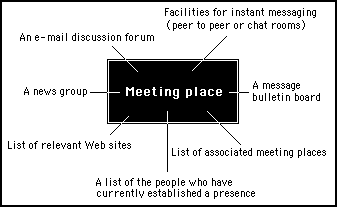 Figure 13 - Each meeting place in the formatted people space will take the form of an environment in its own right, with various types of communication facilities provided. This environment will have to be designed as a template so that it can be recreated for every meeting place needed
At any particular meeting place, different facilities might be used according to the preferences of the people who have established a presence there. There is no way of being able to determine in advance what these preferences might be, so, all options must be offered so as to allow every person to choose for themselves how they wish to communicate with the others. This might result in different meeting places evolving in different ways.
A conventional approach to the design of such meeting places might be to view them from the server side: seeing the meetings and the means of communication being provided from there. However, it can't happen there if the server side is only dealing with bots because bots can't communicate with each other.
This is where a very big paradigm shift is needed because the meetings do not happen on the server side at all. They happen on the client side. The conceptual picture is not to imagine a person going to a server side meeting place to join all the others, but, to transfer copies of all the bots present at a server side meeting place to a meeting place on the client side – in the client's own computer space. In this way, a client has private access to all the bots and can examine them at their leisure to decide how best to enter into communication with them. Only then do they choose the most appropriate channels of communication.
This is a hard concept to get your head around because it conflicts with the way in which meetings are normally conceptualised in the world of bricks and mortar. In the world of the Internet, very strange things can be arranged. Having multiple copies of meetings that go to the attendees is hard to visualise. The brain normally associates meetings with the idea of the attendees going to a meeting place, not having it come to them.
It is these oddball things that can be done on the Internet that are the key to creating significant business opportunities. Simply to recreate on the Web the way the world normally works, seldom leads to e-business success.
Individual communication strategies
The picture presented so far has no apparent facilities for mixing groups or for anyone to be able to selectively choose people from different groups to have private discussions. This omission needs to be addressed.
The simple solution is to combine the concept of the people space with the concept of a virtual cafe. A virtual cafe is a way of imagining a list of Internet correspondents as if they were present in a cafe within your computer. This is illustrated in figure 14, where it shows how an individual can acquire a number of contacts from various different public meeting places, then add them to a list of personal contacts whom they communicate with privately.
Note: The concept of a virtual cafe is developed in the book "The Ultimate Game of Strategy (see references). It is so that you can imagine sitting at a table in the cafe with personal contacts – either singly, or in groups, for a discussion (this can be emulated simply by including the e-mail address of everyone at a virtual table in the "To:" heading of all the e-mail responses to a discussion).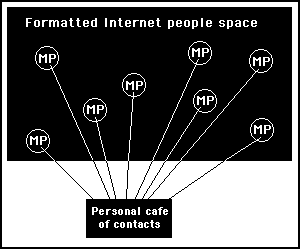 Figure 14 - By visiting various different meeting places in a formatted people space, a variety of different personal contacts can be acquired. These can then be conceptualised as appearing in a private cafe within the space of a personal computer
Although this cafe can be purely conceptual – with the cafe existing as no more than simply a list of people to communicate with privately – the cafe can be given a definitive form and substance. This has been a main theme of my latest books, where clones of people can be assimilated into a personal software environment that incorporates facilities for the rapid analysis and selection of bots, together with various means for communicating with their owners.
Using the concept of a formatted people space, together will appropriate client side "cafe" software, will allow sophisticated communication strategies to be developed to cater for specific areas of knowledge. In this way, these communication structures can be thought of as private networks that bud out of the impersonal Internet. Clones and personal electronic agents can be used to inexpensively build and maintain such environments; providing an information gathering facility where conventional databases would not be able to offer viable solutions.
Besides writing about these applications in the current book I'm working on (Web Presence), I'm also working with several organisations to put these ideas of a living database into practice.